In the recent past, women's cricket has been doing extremely well in India- enough to be a part of the psyhe of the normal Indian cricket-watching public who had hitherto been engrossed with men's cricket alone. From a sensational final finish at the women's cricket world cup to reaching the semifinals of the first standalone T20 World Cup despite a young and inexperienced team, the aces of Indian women's cricket have managed to garner a decent fanbase over a short period of time.
Lately, however, it looks like all the progress might soon be undone given the public unravelling of the internal matters of the team. It began with a controversial decision at a major tournament and, as it stands, the virtue of India's trailblazing ODI captain Mithali Raj is under the scanner.
Dropping Mithali from an all important semifinal match against England in the T20I World Cup was bound to raise some eyebrows. But the domino effect it caused to make women's cricket almost as murky as their male compatriots was something no one saw coming. A few days after the end of the tournament, Mithali Raj's manager Annisha Gupta very publicly called out T20I captain Harmanpreet Kaur as a "weak" and "manipulative" leader who did not deserve the role.
A few days after that, Mithali Raj wrote an e-mail to the BCCI highlighting that she had been humiliated and insulted by Coach Ramesh Powar ahead of that ill-fated semi-final. In defense, Powar's counter allegations against Raj include an accusation that Raj is reportedly not a team player.
According to ESPN Cricinfo, following are the complaints Powar named against Raj.
Minimum inputs in team meetings; not a single word of appreciation after finishing at the top of the table.

Could not understand & adapt to team plan. Ignored her role and batted for own milestones.

Lack of keeping the momentum going which was putting extra pressure on other batters. Worked really hard as a coach to address her power hitting, batting skills and running between the wickets in almost every session.

In practice games she was struggling to score quickly, as wickets were low bounce & slow. Intent was missing. Could not lean and execute shots due to limited ability in skills &fitness.
To all of this, Mithali Raj had only a tweet to offer in reply.
Thoughts? pic.twitter.com/4xU34cF1i8

— The Bridge (@TheBridge_IN) November 29, 2018
To play competitive cricket after almost 200 days, without showing any rustiness, doesn't this deserve better? If we take a look at women's cricket and the state thereof in India, a few names are to be credited with populrising its standing. Mithali Raj happens to be one of them.
Despite commendable performances in the limited opportunities they got in 2017, women's matches are not tagged under 'important' tour. This reflects how Indian fraternity continues to not talk about women's and men's cricket in the same breath.
Just to cite an example of the massive gap between the treatment the men's and the women's cricket team get in India, two teams played in the same country against the same opposition in February this year, but only the men's team's matches were telecasted live. While the women's T20I series was shown live on the TV, the ODI series was nowhere to be watched, except for the live updates online. Same month, same opponents, same venue, but only one was considered as 'key' series.
For the uninitiated, India toured South Africa for three ODIs and five T20Is, played from February 5 to 24 this year. The reason we mention Indian team and not Indian women's team is because, as of now, they are no longer adjuncts to men.
Under Mithali's captaincy, India won the ODI series 2-1, while under Harmanpreet Kaur's captaincy, they won the T20I series 3-1. The fourth T20I was a washout. Historically, India also became the first side to win two series in one tour of South Africa.
Also read: The sexist divide in sports broadcasting
The stats from the series tell you that veteran Raj is still as crucial to the team as was her younger version. The hunger for runs has not ceased, as is evident from her 192 runs from 4 T20Is, which also won her the Player of the Series award. But that was a good period for Indian women's cricket when things seemed to be on track.
Women's cricket becoming disturbingly similar to men's
When Anil Kumble stepped down as the coach of the men's team, questions were raised on the kind of influence captain Virat Kohli had on these administrative decisions and whether or not it was right for a captain to have this much power. A few months back, when Tushar Arothe stepped down as the coach of the women's team ahead of this important T20I World Cup, Mithali Raj was reported a part of the top-brass who had brought it about.
This followed by public spats even where there was no intention of doing so have all brought forth a very disturbing trend of women's cricket following the wrong footsteps of its arguably more popular counterpart. What can be the reason for this?
Should players be lionised to such an extent that they see nothing beyond themselves? Cricket is, after all, a team sport and an agenda built around a single person can never be the right way to go about things.
Nevertheless, no one can discount her massive contribution to women's cricket- not only in terms of runs but also the role she played in raising the sport in general.
---
On 26 June 1999, a 16-year-old Indian batter arrived into international cricket, and the rest, as they say, became history. On her debut, Raj gave the first glimpse of her bright future in the team, as she romped on to a century against Ireland at the Milton Keynes ground. She became the youngest cricketer to score a century on debut and almost two decades later, only four others have managed to do the same.
To realise the importance of this feat, it is essential to understand women's cricket independently. A century on debut may be a more common phenomenon among the women's male compatriots, but the template of men's cricket cannot be applied to women's cricket all the time. Both enjoy their own individuality. If you want to celebrate women cricketers, the first step is to not understand their game and records in context to men's cricket.
Three years after her ODI debut, at the age of 19, Mithali broke Karen Rolton's record of world's highest individual Test score of 209*, when she scored 214 against England in the third Test of her career at Taunton. The longevity of her innings was a proof of her well-maintained fitness, which she can boast of till date.
In 2004, at the age of 21, Mithali became the youngest captain for India in ODIs. Her first assignment was vs West Indies, which India won. Since then, she has Led India in 112 ODIs, winning 69 and losing 40, with three no result games (a win percentage of 63.30).
In 2005, she led India to their first ever World Cup final, a feat that she repeated in 2017.
In August 2006, she led India to their first ever Test and Series victory in England. Mithali, India's most successful ODI captain and the third most successful in the world, has also led the team to three Asia Cup victories between 2005 and 2008.
Over the past 18 years, the icon has achieved several feats, some that would give her more popular counterparts a run for their money.
Mithali played 74 consecutive innings between 2000 and 2007 without scoring a duck — the longest streak for any player at that time (later broken by Australia's Karen Rolton).
She also featured in 109 consecutive matches between 2004 and 2013 – the longest streak for any player in women's ODIs.
In 2017, Mithali scored seven fifties on the trot – the most any player in consecutive innings in ODIs.
Interestingly, the pressure of captaincy never affected Mithali's personal performances, and in fact bettered them. Her batting average as a captain is 56.93, while as a non-captain it was 45.2.
Best of all her feats? She became the highest run-scorer in the history of women's ODI cricket last year, going past England's Charlotte Edward.
If not for Mithali's exploits, would women's cricket get as much space it is now getting on social media?
The great divide between the men and the women

Sample this. Both Sachin Tendulkar and Raj made their international debuts at the age of 16. Both are the highest run-scorers in ODIs. Both are stalwarts.
Or sample this. Both MS Dhoni and Raj have been the finest ODI captains. The two share similar personality traits too; handling media with utmost cunningness, or their cool and composed characters.
As the leader, Dhoni was the bridge between the older and the new generation as the former handed the baton over to the latter. Similarly, Raj was the fulcrum as the team made transition with new guard taking over — from Anjum Chopras to Smriti Mandhanas.
That Raj became India's most successful captain during a period that saw two different generations play, is a testimony to her leadership quality.
Raj to women's cricket is as great as Tendulkar or Dhoni were to men's cricket, as a batsman and captain respectively. Yet, her achievements deserve more attention than those by her better-known male counterparts, because of the circumstances they came under.
Also read: The curious case of discrimination in sports earnings
Like Tendulkar or Dhoni, Raj didn't emerge from a stable domestic structure. Tendulkar made his international debut a year after making his Ranji Trophy debut, a tournament that serves as a gateway to the national team for men.
For women, at least at the time when Raj debuted, there were no such tournaments played, where the cricketer could nurture herself through a competitive platform.
Or unlike the 15-year-old Tendulkar, who scored 326 runs in the semi-final of the Harris Shield (inter-school competition), Raj didn't get the opportunity to play cricket at the school-level. She carved her own niche without the support of a proper grassroots structure.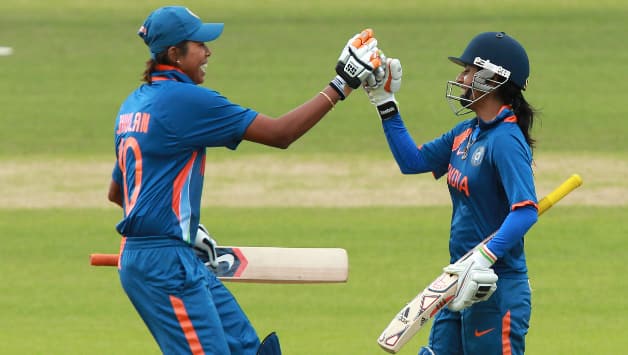 Not just that. Most budding cricketers would feel reluctant to pursue a sport that does not pay, as was the case until 2015, two years after N. Srinivasan was removed as BCCI's president. Mithali, despite bringing laurels to the country, travelled on train, in unreserved compartments.
'Despite being on the national team, I had to travel in unreserved seats to attend national camps. It was quite a let-down. After having won a championship, to travel in the general compartment with the trophy next to you'it isn't a good feeling. But those experiences have made me stronger as a player and as a person,' she recalled in one of her old interviews.
Unlike Sachin, MS Dhoni, or any male cricketer for that matter, women cricketers had no support from fans, because the sole mediator between a cricketer and the fan ' the television ' had no live telecast of her games. There were no cameras glaring at Mithali, there was no media attention, there was no craze.
If you type 'Mithali Raj debut as a 16-year-old' on Youtube search, the results will disappoint you. But if you type 'Sachin Tendulkar debut as a 16-year-old,' the results will show you relevant videos. This, despite the former's debut being more memorable than the latters.
From the start of her career until World Cup 2017, Mithali's feats were rarely known. She made a name for herself, without the help of the mainstream media.
'In 2005 (World Cup), there was not much coverage and no live telecast of our matches. We don't have any videos of those games. We only have with us the experience of our journey in 2005," Mithali recalled in an interview after leading the Indian team to the finals of the 2017 World Cup.
It was not until 2006 that women cricketers started receiving rehabilitation for injuries at the National Cricket Academy in Bangalore. For most of Mithali's career, she had to deal with her injuries on her own.
'The BCCI was not involved in the women's game, so I wasn't aware of any rehabilitation programme. I tried to sort it out on my own, reaching out to different people. I struggled with the injury until 2010'many of my peak years, I played through injury. It was only after the BCCI stepped in, in 2006, that I became a regular at the National Cricket Academy. The physiotherapists and trainers really worked with me on my fitness and my injury. I prolonged my career because of them,' Raj had told Livemint.com.
Mithali, throughout her career, had the talent but not the opportunities. In her 18-year-old international career, she has played only 189 ODIs, 10 Tests and 68 T20Is. Despite largely intermittent competitive games, her form and fitness has never come under the scanner.
On the other hand, Tendulkar, in his long career of 24 years, played 664 international games, besides five seasons of the Indian Premier League.
It is important to note that Mithali never was, and never will be in the shadow of any male cricketer. The constant references being made with Tendulkar, are for the sole purpose of translating Mithali's achievements into greater recognition. Similarly, Tendulkar had a phenomenal era which we may or may not witness again, and his legacy will be preserved forever.
Coming back to the Indian captain, the most difficult of all battles that preceded her extraordinary era was that of gender indiscrimination. In her old interviews, the batswoman has often spoken about how she had to put up with the patriarchal mindset of Indians, until she made her bat do the talking.
'People used to say: 'Acha, ladkiyaan bhi khelti hain? Do you play with a tennis ball?' she recalled in an old interview to livemint.
It can be remembered that even after her greatest feat ever, that in which she became the highest run-scorer in ODIs, Mithali's identity was mistaken by Indian captain Virat Kohli. In what was seen as a case of utter ignorance towards women cricketers, as has been the case historically, Kohli posted Punam Raut's picture on his Twitter account to congratulate Mithali on her feat.
Someone who shares the same trade as Mithali failed to recognize her, and that highlighted the very poor acceptance people have towards women cricketers.
However, none of the aforementioned hindrances discouraged Mithali to become what she is today, and that is what makes her a true legend.
---
Legend or not. One look at the controversy and the in-fighting is enough to leave a bad taste in the mouth of those who have vouched for the execllence of women's cricket for quite some time now. It will be interesting to see how this plays out over the next few days. Otherwise, there will be quite a few closet sexists on social media who will waste no time in commenting how women are unable to deal with fame and all the limelight it brings.
Ultimately, in these case, the sport is the loser.