All sports in India are not fully developed to the extent that one can solely focus on it for the sake of a career. Despite these obstacles, some of India's young talent managed to secure laurels and finish their education. Despite the hurdles faced by student athletes all over the country, the following have tackled both academics and sports with equal determination and aced their ICSE and CBSE examinations. 
Anish Bhanwala 
Really Happy to score 90% marks in Cbse Class 12th Boards and remarkable 100 marks in Fine Arts. I feel immense pleasure to score good in academics being a sportsperson✌️
I'll Like to Thank all my Teachers and Manav Rachna school for supporting me ? @manav_rachna @MrisEdu pic.twitter.com/BG3XCHWXOH

— Anish Bhanwala (@anish__bhanwala) July 14, 2020
Anish Bhanwala is a shooter who joined the Indian shooting team in 2017. The 17 year old marksman who hails from Haryana scored 90% marks in his CBSE Board exams. He also scored 100 marks for Fine Arts which showcases his academic talents alongside being the youngest Indian gold medalist at the Commonwealth Games. Anish started at the young age of 11 when he first took part in the Modern Day Pentathlon World Championships in Cyprus. He is now training under his coach Mr. Harpreet Singh who is the 2010 Commonwealth Games Individual and Team gold medalist.
Vantika Agrawal
WIM Vantika Agrawal sets a true example of excellence with efforts scoring 95% in 12th CBSE exams by preparing within just 2 months and also got selected in Chess Olympiad Indian Team.

We're proud of you champ, keep going. Lakshya for Glory! pic.twitter.com/u3lGcgib9q

— Lakshya Sports (@lakshyasportsin) July 14, 2020
Vantika Agrawal is a 17 year old girl from New Delhi who scored 95% in 12th CBSE. However she is also the recipient of the Woman International Master (WIM) title. She realized her passion for chess at seven and a half years of age which she eventually nurtured to win trophies. Her efforts to score her percentage for 12th CBSE exams happened over the course of only two months. She is ranked number 1 for the category of 'Under 18 active female players' by FIDE.
Srijit Paul
IM Srijit Paul scores 93% in Class 12 CBSE Board Examinations

He won double Gold and a Silver at Western Asia Youth and Junior. He also became an IM there.

Srijit showed once again that playing chess does not hamper studies, in fact helps#Chess #ChessBaseIndia #CBSEResults pic.twitter.com/Y5U3Ds5OeC

— ChessBase India (@ChessbaseIndia) July 14, 2020
Srijit Paul is another Indian chess player who is best known for winning the IM title, a dream that he has chased for long. He scored 93% in his class 12 CBSE board exams. He also won two gold medals and a silver medal in the Western Asia Youth and Junior which earned him the IM title. He is currently training under Coach Atanu Lahiri. 
Sai Sankhe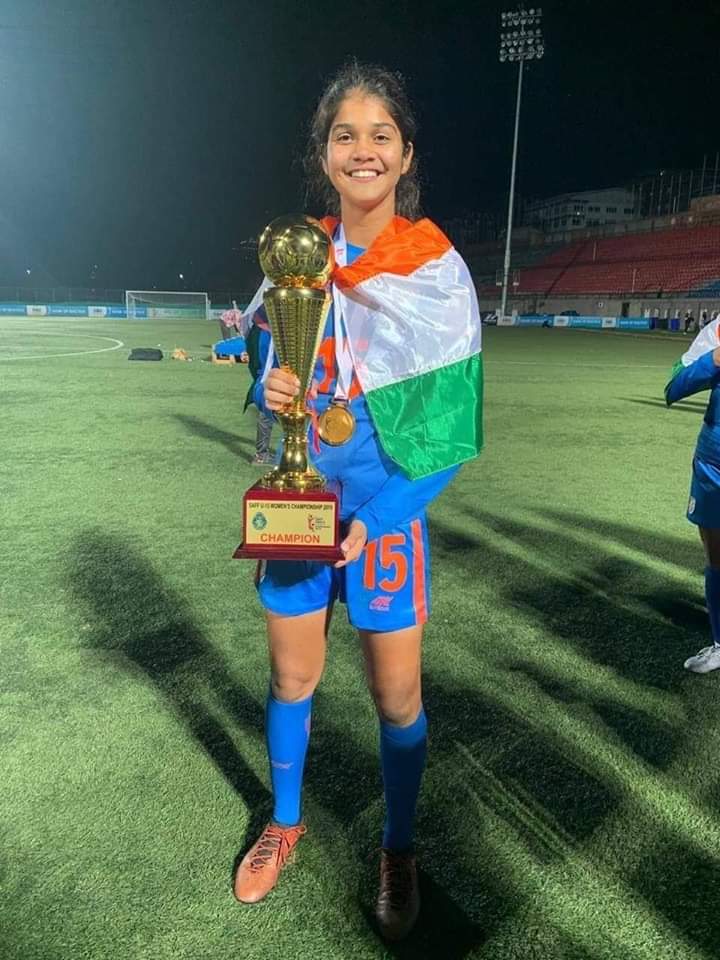 Sai Sankhe is another athlete who did not let studies deter her. She scored 96.2% in her class 10 ICSE board exam. One of the ways she decided to manage this unlikely alliance between academics and sports is by following up with her studies while at training camp. She played in the South Asian Football Federation cup and has shown that studies and sports do go hand in hand if one has the determination.
Rhea Negi
Rhea Negi is a shooter who has represented India in national level shooting competitions. She scored 90.6% marks whilst fighting dyslexia from a very young age. Enrolling in special classes for reading, writing and the help of her teachers were one of the most motivating factors in balancing studies. Contrary to what many students think, Rhea put quality of study before quantity of hours which was how she scored such a result. She plans to study visual sciences and photography to chase her hobby at a professional level.
These student athletes of India have shown that despite studies being a major burden on many students across the country, dedication and time management will yield successful results.