Begin typing your search above and press return to search.
Just when people were basking in India's steady supply of medals at the Commonwealth Games, the government decides it's time to stoop a step-down and try to make it about politics. That is exactly what the Ministry of Sports did under the watch of Olympic Medalist and sports minister Rajyavardhan Singh Rathore. The Ministry sent across a circulation to Sports Federations asking for the number of medals that Indian athletes have won under the BJP Government and how many were won while Congress was in power.
ALSO READ: Hit or miss: Re-evaluating the success of Khelo India School Games
The email seemed to be a quintessential instance of how sports suffer under the shadow of political prowess in India and is rarely given a chance to enjoy a moment of glory before power hungry political powers try to shove athletes off the podium and attribute a sporting victory to not the Indian flag but to the flag of the political party. In what is being circulated, the text reads, "Mos(I/c)'s Office sought the following information urgently: The no. of Medal won by India in the international events during the last four years (under Narendra Modi government). If a comparison is made with medal won by Indian during UPA Govt, time.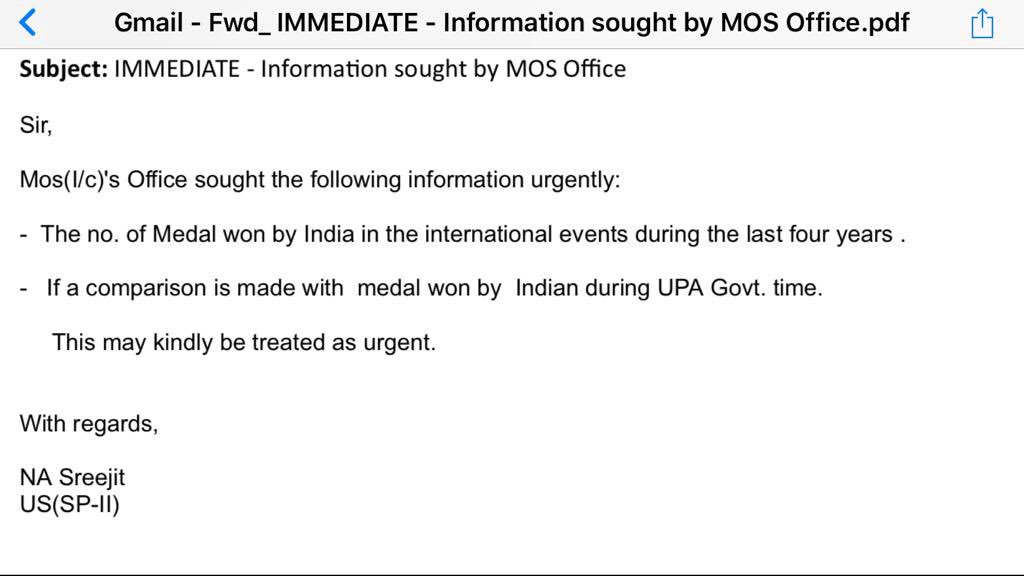 Once made available on the internet, this obviously received condemnation from the Twiteratti, calling it a blatant attempt to politicise sports. The former I&B Minister Manish Tewari directly attacked Rathore for this step. "Isn't this blatant politicisation of sports? Read mail below @Ra_THORe office is ostensibly asking Sports Federations for a comparison of the medals won by India in the past 4 years as opposed to UPA years? Sportspersons win medals for India not NDA/BJP or UPA! Very Shameful." his tweet read. https://twitter.com/ManishTewari/status/982887974147903488 The fact that it was requested by the ministry that the letter be treated with urgency probably signals to an expected dig at the former ministry once India returned home with a bag full of medals from the Gold Coast. Tewari was reported to say, "This is unfortunate that the current BJP-led government, after having divided the nation along the religious line, has now set out to divide the country's sports stars using communal agenda. "Never before has it happened that the government of the day has sought to compare the performances of our athletes based on which party governed the country.' Tewari's statement was backed by Kirti Azad, who despite being a BJP MP, has not forgotten to put sports and politics in different departments. Being a former cricketer, especially being part of the squad that won India's first ever cricket world cup in 1983, Azad was quick to condemn the blatantly cheap move that Rathore tried to pull. He, like Tewari, resorted to Twitter and said, "We represented our country not a political party. Which party you were representing @Ra_THORe when you won the #Silver in #Olympics ? What a shame! @ManishTewari I fully endorse your views.' https://twitter.com/KirtiAzadMP/status/982903800716578816 There is a disturbing trend being seen lately of leaked emails creating huge political controversies. The matter of Saina Nehwal's father being denied entry into the Games Village, which has now reached the Delhi high court, had also started over a leaked email.
A storm over nothing?
The mention of 'UPA government' in the sports ministry's letter might be unfortunate
(and might have been phrased as 'the four years between 2008 and 2012')
, but this might have been a valid request to evaluate the success of the present ministry. Another very valid reason for this request might have just been to identify which sport has improved or which sport has not done so well in the last four years, as is the responsibility of the sports ministry to find out. Also, while Indian sports has seen many records being broken and timings improved in the last four years, there has not been any marked increase in the number of international medals won. In fact, those agreeing with the leaked email's political agenda might be forgetting that India's most successful international medal haul was at the 2012 Olympics. In any case, pulling up Rathore for a routine directive composed by an officer of his department reeks of what ails Indian sports ' an ugly fight over who will take credit for the athletes' blood and sweat. Our athletes are fighting enough challenges as it is. Let us not distract them with squabbles over their medals.