East Bengal is set to release their forward Jaime Santos Colado as The Bridge can confirm. The 24-year-old Spaniard was reported to be at the edge of losing his job as he failed to come up with an impressive performance on the field for the last couple of months and it seems time has come for him to depart from the Red and Gold tent.
Colado joined East Bengal last season and had a fair display of his skills and goal-scoring capability under the then gaffer Allesandro Menendez Garcia as East Bengal ended the I-League as runners up. The Sporting de Gijon graduate scored 5 goals out of his 14 appearances in the I-league. This season also started well for Colado as he continued with a good goal scoring momentum netting 10 goals in 13 matches in the Durand and CFL; but things turned odd as the I-League progressed. Colado, who was in great form earlier this season failed to come up with goals on the field as he failed to grab his natural streak.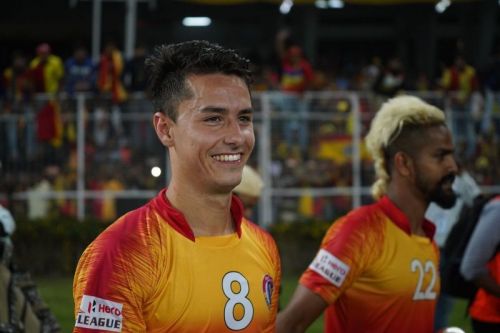 East Bengal suffered a huge set back as the whole team succumbed to a wide array of losses this season. They failed to score goals and Colado's off form came up to be one of the major reasons. Things didn't stop here for Colado as the Spaniard continued to get involved in various controversies on and off the field as he grabbed a suspension from AIFF due to his misconduct on the field. The situation got further harsh when East Bengal got just aside the relegation zone as they suffered a consecutive loss against Indian Arrows and Aizwal FC.
The Red and Gold management now took it as a high time and now turned up to make some changes in the team according to the new gaffer Mario Rivera. Thus the decision was made to replace a bunch of foreigners. Marti Crespi along with Jaime Santos Colado ranked top in the release list and accordingly, the official statement regarding Crespi's departure was announced yesterday. The Bridge understands its just a matter of time left for the Club's final call on Coldao's release.
East Bengal have already come up with replacements for the two voids as they are desperate to come out of the relegation zone. The Red and Golds have signed in Spanish medio Victor Perez and are expected to sign in Costarican World Cupper Johnny Acosta later this week as sources close to the development can confirm that Acosta has agreed to rejoin the Kolkata giants once again with a mission to revamp the winning momentum. Relatively Johnny Acosta joined East Bengal last season and played a key role in east Bnegals's success but was released later ahead of this season by Allesandro Menendez Garcia. It is time which will answer weather East Bengal can come out of the fragile scenario with their new inclusions or not.