Begin typing your search above and press return to search.
Reality check: How many years does India need to qualify for the FIFA World Cup?
'Dream comes true, India qualifies for World Cup' — read a tifo which welcomed the Indian football team to the Salt Lake Stadium.
The stunning tifo, inspired by a popular daily's coverage of the Indian cricket team lifting the World Cup back in 2011, highlighted India's emergence as a footballing superpower in the continent.
But has India really done enough? Is it still too early to even dream about World Cup qualification? Well, if Tuesday's encounter against Bangladesh is anything to go by, it is.
A month back, the Indian football team had apparently done the unthinkable. The Blue Tigers had held a much higher-ranked opponent, Qatar, in their own backyard to a goalless draw.
Well, guess what? Bangladesh did one better. They held a team, 83 places above them in the FIFA rankings, to a 1-1 draw in front of 60,000-odd opposition fans; and had they been lucky, they would have walked away with a win.
Also read:2022 FIFA World Cup Qualifiers: India survive scare against Bangladesh
India's 'monumental' draw against Qatar was the talk of the nation for almost a week. Newspapers carried stories, analysis for a good couple of days after the match had happened. India captain Sunil Chhetri, who missed the game due to illness, lauded the efforts of his teammates publicly tweeting: "That's my team, those are my boys."
The euphoria surrounding Indian football had suddenly received a major boost. After all, the national team had managed to eke out a draw against the reigning Asian champions. The result had fuelled dreams, dreams of qualifying for the FIFA World Cup for the first time!
And where did that all go? Down the drain.
Gurpreet Singh Sandhu, the star performer against Qatar with 11 saves, was mobbed by the media at a training session prior to the Bangladesh game wherein he quipped that India should have not only drawn but won in Doha. Was it just a general assessment or was it over-confidence?
On Tuesday, it was Gurpreet's mistake, a silly one, which led to Bangladesh's opening goal in the 41st minute. As the ball was delivered from a set-piece, the 6-foot-6 tall custodian completely misjudged the flight and missed. The ball fell to Saaduddin, who probably did not even expect it, and all he had to do was nod it goalwards.
Through the course of the match, Bangladesh had at least two clear cut chances to make things worse for the hosts. Two close penalty shouts from the visitors were not given and eventually, India had to ride on defender Adil Khan's 88th-minute strike to snatch a draw.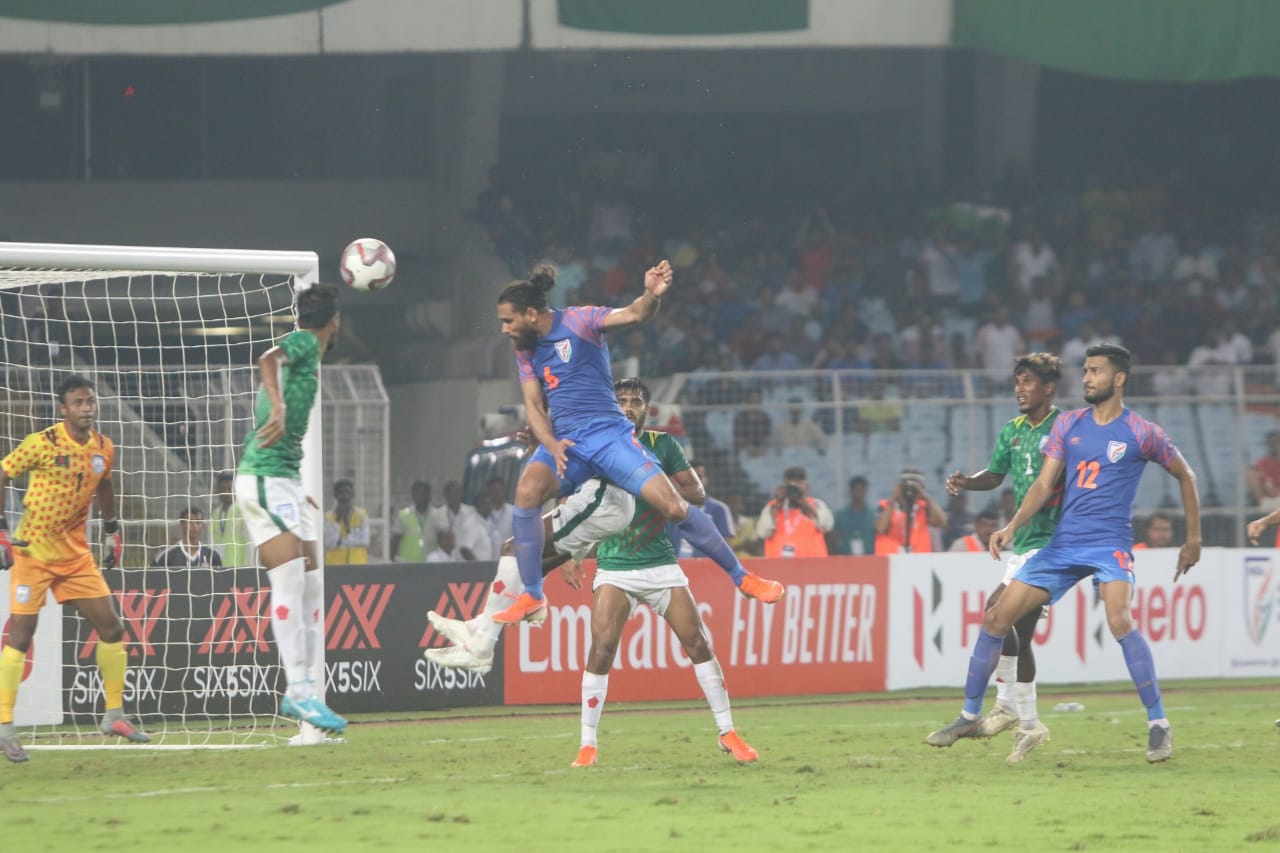 What was transpiring on the pitch was nightmarish. Resorting to a long-ball style in the first half as Bangladesh sat back and defended, the Indians looked wayward in their approach. More shockingly, India did not change their style even after it became apparent that long balls were being dealt with ease by the opposition defenders.
Stimac did what he could, making positive substitutions, but something seemed lacking in the way Chhetri and co. were going about their business. It was as if they did not want to win the game. It seemed that Indian football had gone back 15 years when Japan plundered 11 goals in two matches. 
The devil lies in the details
If one puts Indian football under the microscope, several frailties show up. First of all, there is the whole ISL vs I-League hoopla. Then, of course, comes the issue that Indians just aren't playing enough,
We all know the stats, right? On an average, an international player features in 50-60 competitive matches in a calendar year with the season going on for 8-10 months. An Indian professional, on the other hand, hardly plays 30. A season for an Indian usually means 5-6 months of competitive football. How can Indians reach the level required if they don't compete enough?
On Monday, a day before the Bangladesh match, the All India Football Federation (AIFF) announced the much-awaited roadmap for Indian football. Agreed, with this roadmap, everything could go in the right direction. Playing in one unified league, with promotion and relegation, will give Indian players more competitive game time.
Also read:Indian football roadmap: I-League clubs set to get promoted to ISL from 2022-23 season
A division-wise structured league system will no doubt help. But then again, even if all the planning works, the implementation will take time. The question remains if it takes five years to sort out the domestic football scene in the country, how many more is it going to take for the national team to break through?
We make so much of one good result that we fail to realise the harsh reality. Indian football team seems still a good two decades behind World Cup qualification… not because they drew against a country ranked 187th out of 211 countries in the world, but because of everything else!