Equestrian made its way into the Asian Games in the 1982 edition with New Delhi as the host. Raghubir Singh clinched the gold for India at the Individual Eventing while Ghulam Mohammed Khan took the silver. Rupinder Singh Brar also bagged the gold in Individual Tent Pegging. From 1982 to 2014, India had won nine medals in equestrian but the three collections in the New Delhi Games would be the only ones in Individual category.
Fouaad Mirza, ended the wait for India when he won a silver medal in the Individual Eventing category riding Seigneur Medicott in 2018. The Bridge spoke exclusively with the seventh-generation rider to get his views on winning the silver in Jakarta, being bestowed the Arjuna Award, his preparation for the Tokyo 2020 Olympic Qualifiers, and future of equestrian in India.
How was your childhood like growing amongst the horses?
My childhood was very normal apart from the fact that you can say I grew up on a farm. I used to love all sorts of animals like cats and dogs, among others. I first rode my horse when I was five years old. I was scared and nervous initially but slowly I started to get better on it.
You won silver in the Individual and Team Eventing categories. But, made a jumping fault in the second fence in your Individual Eventing competition. If it weren't for the jumping fault, you could have won gold. Can you elaborate on that experience?
The reason for that fall was my mistake. I was actually gutted to lose and miss out on gold. It would have been truly amazing had I won gold. Everything was there for me to play for. But, in sports, you either win or you learn, and, from that mistake, I learnt a lot. I will make sure it doesn't happen in the future.
The President also bestowed upon you the Arjuna Award. How did you feel about it?
That was something incredible. Receiving the Arjuna Award from the President of the country is a once in a lifetime experience. When I got the phone call a week before from the Director of Embassy International Riding School, he was like "Hey man, congrats! You are getting the award." "Which award?" I asked. He replied then, "The Arjuna Award, man!" "What? You must be joking." I couldn't believe myself. Once he said, you need to get the tickets and plan yourselves, reality struck me. Soon, family and other players started congratulating me.
It was a huge honour for me to receive the award from the President of the country. Rashtrapati Bhavan is also an amazing place.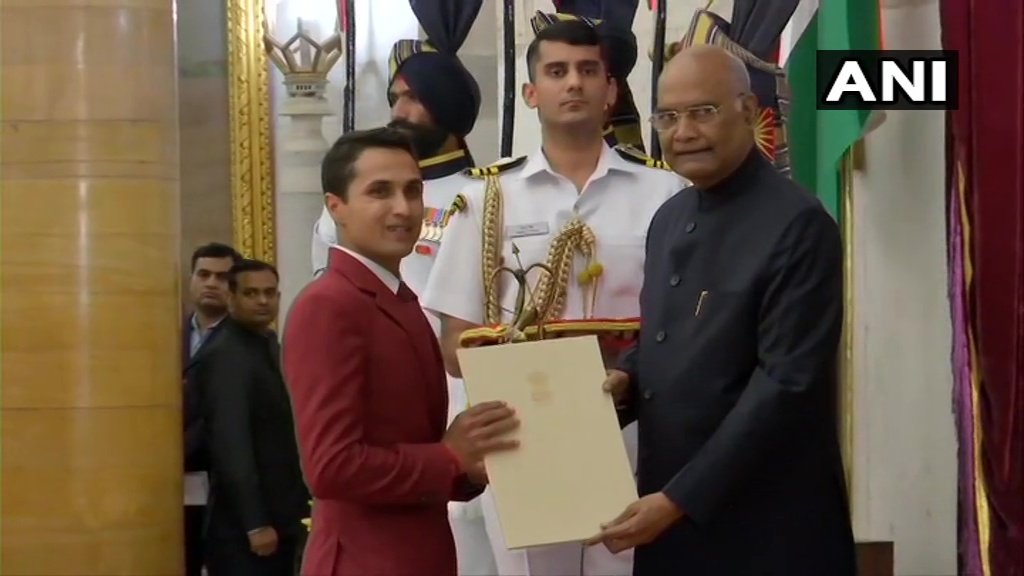 The horse with which you won the silver medal in Asian Games, Seigneur Medicott, got injured and you are training with other horses for Olympic qualification. How is Seigneur different from your other horses?
Medicott is better than other horses. But, that doesn't mean other horses are not good enough. Medicott was very talented. He found everything from cross country to jumping very easy. Others find it slightly difficult. But, we are working very hard. We are working and improving. To lose Seigneur from our Tokyo programme was a huge blow. He will recover. It will take time for him to complete his rehabilitation. But, I cannot take him to Tokyo.
You train under German coach Bettina Hoy, who herself won a bronze medal in 1984 Olympics and medalled in 2006 World Championships but her training is slightly rigorous. How are you adapting to that?
She is a tough trainer. She is a very strict and strong person. It is not sometimes easy but it is the best training for me. She shouts a lot and puts a lot of pressure on you. That kind of pressure on a daily basis for many athletes is sometimes too much. But, I have found a way to deal with it. And, she also found a way to take out the best out of me. Good things can come out from this training method. As a matter of fact, the amount of pressure on any athletes is too much in India. You have the whole nation behind you and there are a lot of expectations from you. But, thanks to her, I can take on the pressure in competitions as it is normal for me.
Do you think Japan hosting the Olympic Games is an advantage for you to qualify for Tokyo because usually they or Australia take up the Individual NOC quota? This time they have qualified as hosts, Australia and New Zealand have made their way through 2018 World Equestrian Games, and Thailand and China have occupied the Group F/G spots.
In some ways yes. You see Australia and New Zealand have qualified through the 2018 FEI World Equestrian Games quota. Japan has also made its way as the hosts. China and Thailand occupied the team spots in the Group F/G qualification event by the Asia-Pacific Championship in Europe. All said and done, it doesn't make India's path to qualification easy but a little more straightforward. China still needs to qualify two riders. If they fail to do that, they lose the spot and their riders come in contention with me. I am leading the rankings in Zone F/G currently. December 31 is the last date for Olympic qualification. By then, it would be clear if I will make it to the Olympics or not. It now depends on China and Thailand. They have got their team spots but if they can't get three riders, they come in contention with me for the Individual spots.
Many people think that equestrian as a sport is only for the rich. Is it completely true?
No, I don't think so. It is an expensive sport, no doubt about it. There are a lot of expenses regarding looking after the horses. It becomes expensive in that regard, to feed them, take care of them, transport them, veterinary expenses, and take them for competition. But, if you compare it with F1 or even F3 or other rallying sports, it is much cheaper. I wouldn't say equestrian is only for the rich. If you work hard, then good things will happen and you would get sponsorship. Many riders including me have been blessed with the opportunity. The Embassy International Riding School came up and sponsored me. If you have the drive to achieve something and proper determination, good things happen to you.
What is the future for equestrian as a sport in India?
The future of equestrian as a sport in India is quite bright. I think from the next Asian Games onwards, we can win medals in Asian Games consistently. At the Olympic level, we are still breaking through. Horses have been a part of the Indian culture since the beginning of time. And, as Indians, we are naturally gifted towards them.
What steps do you think the Equestrian Federation of India should take to popularize the game for civilians?
The Equestrian Federation of India is doing their best to make the sport popular. A huge disadvantage for India is that the distances between the cities are vast. So, in the National Games and other competitions, all the riders from various parts of the country need to take their horses and gather in the same place. The Embassy Riding School kickstarted the 10th edition of Equestrian Premier League in Bangalore. Different leagues are coming up in different parts of the country. Everything is being done to make the sport popular. But, it will not happen overnight. The plan and vision are there but it will take time to implement.
Last question, any advice you have for people in India who are trying to make their mark in equestrian?
Work hard. That would be my safest advice. Always love your horses. That is a very important thing. There is always another day if you do not get the results. At the same time, do not get carried away with winning. Take care of the well being of yourselves and the horses. And, stay positive!