Begin typing your search above and press return to search.
I happened to log onto a sports website for a few insights on Mithali Raj's performance from the recently-concluded ODI and T20I series between India and South Africa, both of which were won by the women in blue.
The key series' section on the home page, which included the contest between India's Virat Kohli and South Africa's Faf du Plessis, failed to include matches between Raj and Dane van Niekerk.
I eventually found the insights I needed, but not until I clicked on the 'more series' tab. Similar was the case on a few other websites. The Indian women played an international series after a long hiatus of seven months, and nailed it on conditions that are considered as Achilles heels for teams from the subcontinent. To play competitive cricket after almost 200 days, without showing any rustiness, deserved better limelight, I thought. Despite commendable performances in the limited opportunities they got in 2017, women's matches are not tagged under 'important' tour. This reflects how Indian fraternity continues to not talk about women's and men's cricket in the same breath.
Two teams played in the same country against the same opposition, but only the men's team's matches were telecasted live. While the women's T20I series was shown live on the TV, the ODI series was nowhere to be watched, except for the live updates online. Same month, same opponents, same venue, but only one was considered as 'key' series. Anyhow, I continued with my research on the website. For the uninitiated, India toured South Africa for three ODIs and five T20Is, played from February 5 to 24. The reason I mention Indian team and not Indian women's team is because they are no longer adjuncts to men. Under Mithali's captaincy, India won the ODI series 2-1, while under Harmanpreet Kaur's captaincy, they won the T20I series 3-1. The fourth T20I was a washout. Historically, India also became the first side to win two series in one tour of South Africa. Also read:
The sexist divide in sports broadcasting
The stats from the series tell you that veteran Raj is still as crucial to the team as was her younger version. The hunger for runs has not ceased, as is evident from her 192 runs from 4 T20Is, which also won her the Player of the Series award. Talking of the tour as a whole, Raj was the second highest run-scorer with 261 runs from seven innings. To have been able to maintain both fitness and form consistently over nearly the past two decades, along with mentoring and moulding her younger teammates into world-class performers, speaks of the undisputed legend Raj is. If this intrigues you into knowing more about the Hyderabad cricketer, here are some quick flashbacks.
What makes Mithali a legend?
On 26 June 1999, a 16-year-old Indian batter arrived into international cricket, and the rest, as they say, became history. On her debut, Raj gave the first glimpse of her bright future in the team, as she romped on to a century against Ireland at the Milton Keynes ground. She became the youngest cricketer to score a century on debut and almost two decades later, only four others have managed to do the same. To realise the importance of this feat, it is essential to understand women's cricket independently. A century on debut may be a more common phenomenon among the women's male compatriots, but the template of men's cricket cannot be applied to women's cricket all the time. Both enjoy their own individuality. If you want to celebrate women cricketers, the first step is to not understand their game and records in context to men's cricket. Three years after her ODI debut, at the age of 19, Mithali broke Karen Rolton's record of world's highest individual Test score of 209*, when she scored 214 against England in the third Test of her career at Taunton. The longevity of her innings was a proof of her well-maintained fitness, which she can boast of till date.
Source: The Hindu In 2004, at the age of 21, Mithali became the youngest captain for India in ODIs. Her first assignment was vs West Indies, which India won. Since then, she has Led India in 112 ODIs, winning 69 and losing 40, with three no result games (a win percentage of 63.30). In 2005, she led India to their first ever World Cup final, a feat that she repeated in 2017. In August 2006, she led India to their first ever Test and Series victory in England. Mithali, India's most successful ODI captain and the third most successful in the world, has also led the team to three Asia Cup victories between 2005 and 2008. Over the past 18 years, the icon has achieved several feats, some that would give her more popular counterparts a run for their money. Mithali played 74 consecutive innings between 2000 and 2007 without scoring a duck -- the longest streak for any player at that time (later broken by Australia's Karen Rolton). She also featured in 109 consecutive matches between 2004 and 2013 - the longest streak for any player in women's ODIs. In 2017, Mithali scored seven fifties on the trot - the most any player in consecutive innings in ODIs. Interestingly, the pressure of captaincy never affected Mithali's personal performances, and in fact bettered them. Her batting average as a captain is 56.93, while as a non-captain it was 45.2. Best of all her feats? She became the highest run-scorer in the history of women's ODI cricket last year, going past England's Charlotte Edward. If not for Mithali's exploits, would women's cricket get as much space it is now getting on social media?
The circumstances that preceded the Mithali Raj era
Sample this. Both Sachin Tendulkar and Raj made their international debuts at the age of 16. Both are the highest run-scorers in ODIs. Both are stalwarts. Or sample this. Both MS Dhoni and Raj have been the finest ODI captains. The two share similar personality traits too; handling media with utmost cunningness, or their cool and composed characters. As the leader, Dhoni was the bridge between the older and the new generation as the former handed the baton over to the latter. Similarly, Raj was the fulcrum as the team made transition with new guard taking over -- from Anjum Chopras to Smriti Mandhanas. That Raj became India's most successful captain during a period that saw two different generations play, is a testimony to her leadership quality. Raj to women's cricket is as great as Tendulkar or Dhoni were to men's cricket, as a batsman and captain respectively. Yet, her achievements deserve more attention than those by her better-known male counterparts, because of the circumstances they came under. Also read:
The curious case of discrimination in sports earnings
Like Tendulkar or Dhoni, Raj didn't emerge from a stable domestic structure. Tendulkar made his international debut a year after making his Ranji Trophy debut, a tournament that serves as a gateway to the national team for men. For women, at least at the time when Raj debuted, there were no such tournaments played, where the cricketer could nurture herself through a competitive platform. Or unlike the 15-year-old Tendulkar, who scored 326 runs in the semi-final of the Harris Shield (inter-school competition), Raj didn't get the opportunity to play cricket at the school-level. She carved her own niche without the support of a proper grassroots structure.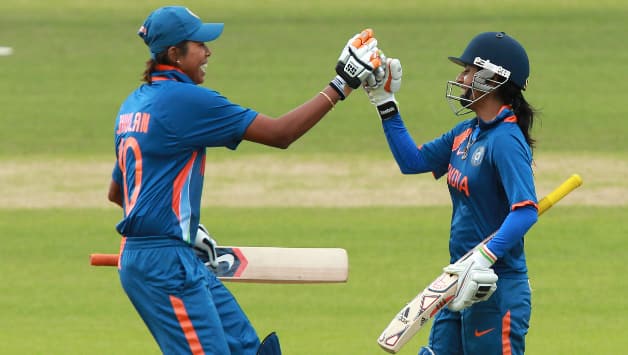 Not just that. Most budding cricketers would feel reluctant to pursue a sport that does not pay, as was the case until 2015, two years after N. Srinivasan was removed as BCCI's president. Mithali, despite bringing laurels to the country, travelled on train, in unreserved compartments. 'Despite being on the national team, I had to travel in unreserved seats to attend national camps. It was quite a let-down. After having won a championship, to travel in the general compartment with the trophy next to you'it isn't a good feeling. But those experiences have made me stronger as a player and as a person,' she recalled in one of her old interviews. Unlike Sachin, MS Dhoni, or any male cricketer for that matter, women cricketers had no support from fans, because the sole mediator between a cricketer and the fan ' the television ' had no live telecast of her games. There were no cameras glaring at Mithali, there was no media attention, there was no craze. If you type 'Mithali Raj debut as a 16-year-old' on Youtube search, the results will disappoint you. But if you type 'Sachin Tendulkar debut as a 16-year-old,' the results will show you relevant videos. This, despite the former's debut being more memorable than the latters. From the start of her career until World Cup 2017, Mithali's feats were rarely known. She made a name for herself, without the help of the mainstream media. 'In 2005 (World Cup), there was not much coverage and no live telecast of our matches. We don't have any videos of those games. We only have with us the experience of our journey in 2005," Mithali recalled in an interview after leading the Indian team to the finals of the 2017 World Cup. It was not until 2006 that women cricketers started receiving rehabilitation for injuries at the National Cricket Academy in Bangalore. For most of Mithali's career, she had to deal with her injuries on her own.
'The BCCI was not involved in the women's game, so I wasn't aware of any rehabilitation programme. I tried to sort it out on my own, reaching out to different people. I struggled with the injury until 2010'many of my peak years, I played through injury. It was only after the BCCI stepped in, in 2006, that I became a regular at the National Cricket Academy. The physiotherapists and trainers really worked with me on my fitness and my injury. I prolonged my career because of them,' Raj had told Livemint.com.
Mithali, throughout her career, had the talent but not the opportunities. In her 18-year-old international career, she has played only 189 ODIs, 10 Tests and 68 T20Is. Despite largely intermittent competitive games, her form and fitness has never come under the scanner. On the other hand, Tendulkar, in his long career of 24 years, played 664 international games, besides five seasons of the Indian Premier League. It is important to note that Mithali never was, and never will be in the shadow of any male cricketer. The constant references being made with Tendulkar, are for the sole purpose of translating Mithali's achievements into greater recognition. Similarly, Tendulkar had a phenomenal era which we may or may not witness again, and his legacy will be preserved forever. Coming back to the Indian captain, the most difficult of all battles that preceded her extraordinary era was that of gender indiscrimination. In her old interviews, the batswoman has often spoken about how she had to put up with the patriarchal mindset of Indians, until she made her bat do the talking. 'People used to say: 'Acha, ladkiyaan bhi khelti hain? Do you play with a tennis ball?' she recalled in an old interview to livemint. It can be remembered that even after her greatest feat ever, that in which she became the highest run-scorer in ODIs, Mithali's identity was mistaken by Indian captain Virat Kohli. In what was seen as a case of utter ignorance towards women cricketers, as has been the case historically, Kohli posted Punam Raut's picture on his Twitter account to congratulate Mithali on her feat. Someone who shares the same trade as Mithali failed to recognize her, and that highlighted the very poor acceptance people have towards women cricketers. However, none of the aforementioned hindrances discouraged Mithali to become what she is today, and that is what makes her a true legend.
Mithali Raj after the 2017 World Cup
Indian team's biggest gain from their beautiful World Cup campaign was the love and recognition they received from fans, because all the matches, barring one or two, were telecasted live. The last seven months saw Raj turn into a big brand. From grand felicitations to several prizes, the captain and her troop's long due acceptance came to an end. But perhaps, only for a few weeks, or months. That the ODI series from India's recent tour to South Africa was not televised live, or not considered important enough to be discussed on the home page of most sports portals, highlights the deep-rooted problems in the growth of women's cricket in India, something that needs to be addressed at the earliest.
With a Bradmanesque career average of more than 52, the Padma Shri and Arjuna award recipient has several trophies in her cabinet. Slowly but definitely, she has been receiving love, respect and acceptance over the past few months. So what do we owe her? The best gift we could give her before she puts curtains on her glorious career, is more recognition to not her, but her teammates, each of whom she has moulded with one purpose ' to take Indian cricket to new heights. That cannot happen until at least the BCCI official page has commensurate coverage of their games, which was not the case during the series versus South Africa. Meanwhile, intrigued by Mithali's extraordinary journey, I look for more stats on her. As I click on the 'stats' tab on the home page of a leading sports website, it directs me to five sub-tabs on its next page ' namely
Test matches
,
ODIs
,
Records by team
,
Trophy/cup records
and
other records
. I find stats on women's cricket under the
other records
tab, feel miffed, wonder why someone of Mithali's stature should hide under a not-so-important looking tab, and continue to explore her inhuman numbers.