Begin typing your search above and press return to search.
Cricket reigns as king when it comes to Indian sports. It has a massive following all across the country, recognised by every Indian and played by all children at some point of time. India's women's cricket team has gained a lot of traction in the last couple years for their achievements. Here are five youngest Indian cricketers who made their debut for the Indian women's cricket team.
Nilima Jogalekar
Nilima Jogalekar (Source: Loksatta)
16 years, 184 days
Nilima Jogalekar made her debut in 1978 Women's Cricket World Cup while being under the age of 20. BCCI felicitated her in 2016 for India playing its 500th test match in Green Park Stadium against New Zealand. She has played a total of 13 ODIs in the Women's Cricket World Cup; once in 1978 and 12 ODIs in 1982. Nilima also captained team India against New Zealand as a stand-in for Diana Edulji.
Thirush Kamini
Thirush Kamini (Source: DT Next)
16 years, 136 days
Thirush Kamini is the only cricketer among women who has won the BCCI Player of the Year three times. She had a strong passion for cricket instilled in her by her father who coached her since the age of 6 and Thirush went on to represent the state of Tamil Nadu at the age of 8 in the Under 16 category. She is the only batswoman in the history of women's cricket to have been declared out by 'Obstructing the field'.
Rajani Venugopal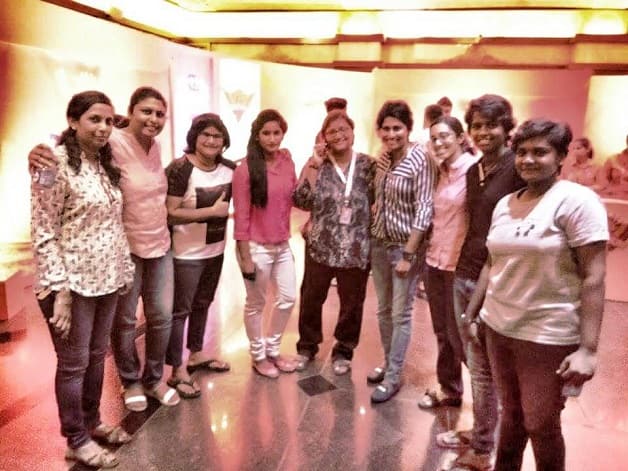 From left: Rajani Venugopal, Archana Naraharasetti, Ragasree Deshmukh, Pranathi Reddy, Purnima Rau, Nooshin Al Khadeer, Ananya Upendran (author), Arundhati Reddy, Praneesha Gorentla. Photo courtesy: Ananya Upendran
15 years, 283 days
Rajani Venugopal is a former Indian Women's Cricket player who represented the Women in Blue in international cricket. She is known to be a right-handed batswoman and has played a total of six test matches and nine ODI matches. Alongside Team India, she has also played for the Indian Railways women's team.
Shafali Verma
Shafali Verma (Source: BBC)
15 years, 239 days
Shafali Verma is a 16-year-old cricketer who made her debut in Women's Twenty20 International on September 2019. Deemed a child prodigy, Shafali made quick strides in cricket. In a match against West Indies in November 2019, she made her mark being the youngest Indian woman in international cricket to score a half-century. She was also part of 2020 ICC Women's T20 World Cup.
Gargi Banerji
Gargi Banerji with Harmanpreet Kaur
14 years, 165 days
Among the few who have the prestigious Marylebone Cricket Club lifetime membership, Gargi Banerji made her debut at the young age of 14 against England in a world cup match in Eden Gardens and continued to leave a major impression on India's Women's cricket team. She was the chairperson of the Indian women's cricket team selection committee where she allowed many aspiring Indian women to play for the country. She holds a record to this day of scoring the most Test runs in a career without a contributing century.