Begin typing your search above and press return to search.
It's unfortunate that squash is not in the Olympics: Joshna Chinappa
Joshna Chinappa, along with Dipika Pallikal, won India's first-ever gold medal in squash.
Joshna Chinappa, you might want to remember the name with only a week left before the 2018 Commonwealth Games begin. After all, of the 15 Gold Medals that came India's way in the 2014 Commonwealth Games, Joshna Chinappa, along with Dipika Pallikal, won India's first-ever gold medal in squash.
Chinappa has had quite a number of feathers in her cap till now. In 2003, she became the first Indian to ever win the British Squash Championship where she competed in the under 19 category. She was also the youngest woman to be crowned national champion. Like most athletes in most sports, Chinappa's initiation into the sport was through her father who was also her first coach.
'He is my inspiration and he introduced me to the sport when I was a kid at the Madras Cricket Club. I owe taking the sport up seriously to him,' said the 31 year old squash star to The Bridge.
Also Read: Are the National Sports Awards losing some of their value?
Since then, Chinappa has had a fairly fortunate journey with her coaches who have seen her through in difficult times. She had no qualms in admitting that she had been lucky to have had the chance to work with some of the best coaches on the circuit.
'My father was my first coach but along the way, I have been fortunate to have the best by my side. For instance, getting a chance to work with Ritwik Bhattacharya made a huge difference to my game, especially with my injury that made me move to Bombay,' mulled Chinappa. 'Even the others, it's such a great thing to be able to work with the likes of Malcolm Willstrop and Liz Irving earlier on in my career,' she added.
Usually in sports, playing on your home turf is considered to be an advantage but for Chinappa, playing in her hometown stays on as the most difficult match she has ever played.
'Every match I play is hard, right from round one because the competition is so intense. But I'd say that playing in the finals of the Asian Championships was my hardest match. Just playing in my hometown, right in the middle of the mall was a lot to digest.'
Chinappa owes her success not just to her father but also to her family and friends for giving her the support that an athlete requires. It is so often forgotten that contributing to an athlete's success not only comes in the form of technical help but also a lot depends on the kind of life that they lead.
'I am quite serious about maintaining a balance and I do not let anything come in the way of that. I am glad that I have been blessed with friends and family who understand that. They are supportive and get that my life is a little different from theirs and I might not be around a lot to hang out or do certain things. These things matter a lot.' said the former world number 10.
In 2014, Joshna Chinappa and Dipika Pallikal created history by winning India's first squash gold at the Commonwealth Games. Her Partner, Dipika Pallikal, has been India's golden girl in squash for quite a few years. Five years junior to Chinappa, Dipika became the first Indian woman to reach the number 10 ranking in the world, back in 2012.
She became the first Female Squash player to be conferred with the Arjuna Award. Deepika and Joshna Chinappa in the past few years have become the Deepika and Joshna Chinappa in the past few years have become the torchbearers of women's squash and the duo's in sync game goes back a long time.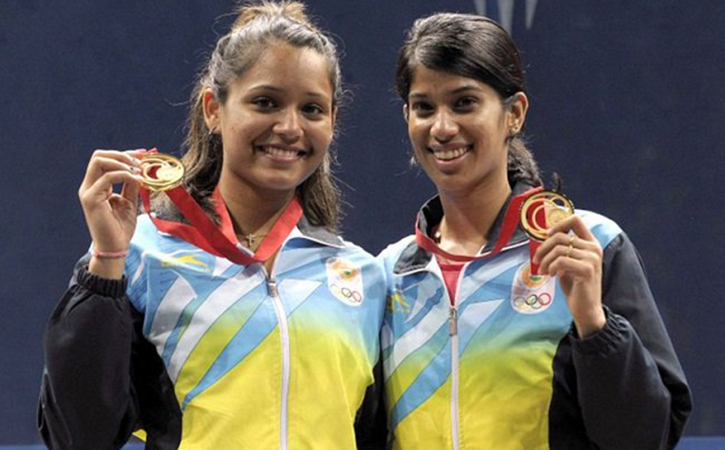 Speaking fondly of Dipika, Chinappa said: 'I have known that girl since she was seven. I have practically watched her grow up into the amazing player that she is. In fact, it is so great me to have a partner like her on court. We both want to do well for India and it pushes us constantly to do our best.' she said.
With the Commonwealth Games as well as Asian Games coming up, Chinappa is only looking forward. But what lies beyond her own future? Talking about the future of squash in India she was hopeful but also realistic. According to her, squash is becoming a more promising sport every day but the need of the hour was to go deeper.
'I do believe lot more needs to be done in the sense that we can have more juniors out there playing and going professional, but they need to be given the means to train at top-class facilities with good coaches and financial support to play tournaments in order for that to happen. Not enough is being done on the grassroots level either' she suggested.
ALSO READ: From wooden sticks to picking up javelin: The journey of Vikas Yadav
In spite of squash being played by over 20 million people across the globe, the sport is not an Olympic one. Despite recognising the World Squash Federation, the Olympic committee continues to not include the sport, turning a blind eye to numerous applications.
Speaking about an Olympic inclusion she said, 'It's unfortunate that squash is not in the Olympics purely just for the sport that it is! It's one of the fastest and most demanding physically and played in over 200 countries and as global as it gets. It deserves to be there and hopefully, it will.'
Having been in the circuit for quite some time, and through a number of ups and downs, Chinappa's advice for youngsters was far from a shoot for the moon and you'll land among the message of the star. Squash, being one of the most physically demanding sports, she said, 'Keep working hard. Focus on your diet and watch players better than you to constantly learn and improve.'
Ahead of the Commonwealth Games, we wish Joshna Chinappa and the entire Indian Squash Contingent all the very best.