The outbreak of COVID-19 across the world has brought several changes in the way of our life. Sports, overall have come to a standstill, with most big tournaments from the English Premier League, the Olympics, IPL has been either shelved or delayed. However, while these sports had to face the wrath of the pandemic, chess found its way to carry on through these tough times. Not to exaggerate, but chess has thrived, which is clear through the data we have.
With the Over The Board (OTB) tournaments becoming impossible, online tournaments have become popular. None other than Magnus Carlsen had announced the biggest cash tournament online — a $250,000 event for eight elite players. The Magnus Carlsen Invitational was played from April 18 to May 3 with shorter time controls. In the past several weeks there has been a surge in grassroots participation in chess to go along with a few high-profile professional events online. 
Last week, the Online Nations Cup brought 36 of the world's top players together in their homes across multiple time zones. They have been moving pieces on their computer screen's chessboards in a competition that is the same game they would contest under normal conditions. The tournament can be seen on multiple platforms, has a record purse of $180,000 and is being broadcast in a dozen languages.
Video game versions of most sports entail entirely different skill sets from the real thing; manipulating a remote device from a couch bears little resemblance to being sacked by a 300-pound lineman. 
But online chess is essentially the same game, and when other sports were halted in March under a worldwide shutdown, fans were left starving for something to watch — and do. With newfound time on their hands, people have turned to online chess by the millions. In the recently concluded Online Nations Cup, Rest of the World (RoW) beat India 2.5-1.5 in the second round of the online Nations Cup. While former world champion Viswanathan Anand, P Harikrishna and Koneru Humpy drew their games against Teimour Radjabov, Alireza Firouzja and Mariya Muychuk respectively, B Adhiban had an off day as he went down to Jorge Cori.
Earlier, India began their campaign with a 2-2 draw against USA. The FIDE-rated event saw five-time former world champion Anand draw with Hikaru Nakamura in 41 moves on board 1 of the event. India went ahead when current world rapid champion Koneru Humpy defeated Anna Zatonskih in 42 moves. 
The flood of enthusiasm has left chess.com and the other big chess websites like Chess24 and Lichess scrambling to keep up. The rise is more than double in the Indian context. Erik, founder of chess.com, has analysed the user data and reported a spike of users in India.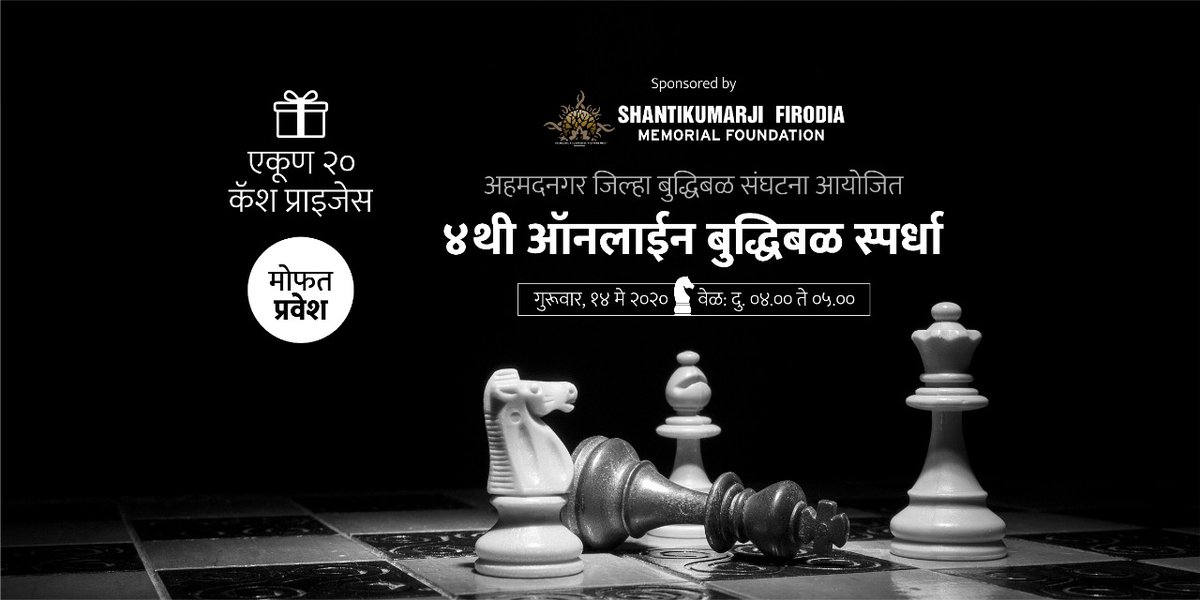 At the regional level, new ways and methods are being adopted to give the players much-needed tournament practice and study programmes. Clubs in different cities across India have switched to daily online tournaments instead of Sunday chess meet events or once-a-month OTB games. The Ahmednagar District Chess Association, under Shantikumarji Firodia Memorial Foundation, has organized an online chess tournament for the players in the district to hone the skills of the players. To register and play in this competition, download the app from http://Lichess.org.
खेळाडूंच्या कौशल्याला वाव देण्यासाठी अहमदनगर जिल्हा बुद्धिबळ संघटनेने जिल्ह्यातील खेळाडूंसाठी ऑनलाइन बुद्धिबळ स्पर्धेचे आयोजन केले आहे.
या स्पर्धेत भाग नोंदणी करण्यासाठी व खेळण्यासाठी https://t.co/VL1M4NpKPF या संकेतस्थळावरून ॲप डाऊनलोड करा.#ILoveNagar #Ahmednagar #Event #Chess pic.twitter.com/iOzdbdZkFd
— I Love NGR (@ilovenagar) May 13, 2020
Grandmaster P Iniyan will be organising a 'Chess Marathon' from May 15 to 17 in an effort to raise funds for Covid-19 relief. The 17-year-old player from Erode in Tamil Nadu will take on several players in blitz games during the three-day event with the money collected going to the PM CARES Fund and the state Chief Minister's relief fund.
Speaking to The Bridge, exclusively, Grandmaster Ramesh RB, a coach in Chennai's Chess Gurukul Academy, said:
"We are taking online classes on chess using platforms like Zoom and Google Duo. All the coaches are decicatedly working online with the students so that there's no gap in training. The training has not been affected, however, the actual participation has been affected. To some extent, it is compensated by online tournaments. Though online tournaments are being held everywhere in the world, these are not official tournaments, these are just for the prize money. The actual tournaments which were cancelled, however, cannot be shifted online because as of now, we don't have the technology to monitor any kind of unethical moves. Anyone can take a computer's help and play. Both professional and amateur players are participating more these days and that way more number of players are engaged in chess now. Across the world, there's more participation in online tournaments."
Also read: Polio didn't stop this woman from becoming a six-time world champion in chess