Begin typing your search above and press return to search.
One of the pioneering figures of Indian women's cricket, Shantha Rangaswamy holds the records of many first to her name. She was the first captain of the Indian women's cricket team in 1976. She was the first Indian women's cricketer to score a century and the first captain to win a Test. In 2017, she also became the first Indian woman to receive the Lifetime Achievement Award for Women by the Board of Control for Cricket in India (BCCI).
Chennai-born Rangaswamy played 16 Tests between 1976 and 1991, and 19 ODIs between 1981 and 1986.
In her Test career, she captained eight of the matches in 1976-77 and four in 1983-84, and scored 750 runs at an average of 32.60. She was an all-rounder, who made her mark on the international stage when Australia's Under-25 side sojourned India for the first time in February 1975. She scored 91 in the first innings of the second match. While Australia needed five runs in the final over with four wickets in hand, Rangaswamy took three wickets in six balls to force a draw. On her international Test debut against the West Indies at Bengaluru in 1976, she scored 74. Three Tests later, she led them to a victory against West Indies. India took on West Indies across six matches and by top-scoring with 381 runs at an average of 42.33, with four half-centuries, Rangaswamy led the team to a 1-0 victory.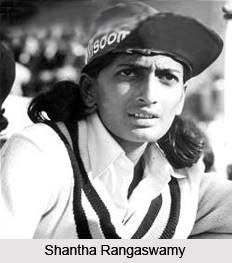 Shantha Rangaswamy (Source: My College Adda)
Then, against New Zealand in an away match in 1977, Rangaswamy scored a century in a total of 177 as India managed to draw the game. That was also the first-ever century scored by a woman cricketer against New Zealand,
In her ODI stint, she captained 16 matches and scored 287 runs.
She was a medium pace bowler who took 21 wickets at a bowling average of 31.61, and clocked a best of 4-42 against England.
She has also won the Arjuna award in 1976, and continues to contribute to the cricketing sphere as a cricket writer, coach, and selector for the women's team. She also holds an executive position, namely General Manager, at Canara Bank, for its Bengaluru Region.
Rangaswamy is a pioneer of women's cricket in India in every sense asher side fought against all odds in a patriarchal society to excel in the sport and lay the platform for the youth to follow. She is remember as team player who lead her side by example. But more than her numbers and records, it were her contributions off the field that shaped the course of women's cricket in India.
Shantha earned the first vehicle of her life - a Luna scooter - as a prize for an outstanding century in an unofficial Test against New Zealand. So when there were no balls for her team to practice, she did not hesitate for a moment to spend from her own pocket. When the government denied permission to her side for the 1988 World Cup in Australia, she reached out to the then Prime Minister Rajiv Gandhi for the clearance. Serving as an administrator and chairwoman of selectors later, Shantha played a major hand in getting pension for the ladies and central contracts for the current generation. The list goes on.