Begin typing your search above and press return to search.
It all started with my mother taking me to the shooting range as a child. She herself did a little bit of shooting when she was in college and the love of the sport was probably in my blood. We often hear about athletes being introduced to a sport by their fathers, but in my case, it was my mother who initiated me.
I was never really one to be cooped up at home and I found my way to the field often. Joining NCC triggered my interest in shooting, the seeds of which had already been planted in me by my mother. Taking part in the NCC tournaments worked as a great platform to gradually move from shooting as a hobby to shooting as a profession.
But honestly, it is when I started shooting for India that I got into a serious groove. I did not have a specific aim in life like most children do. As a child, I may have dreamt of being a pilot but as I grew up, my focus was scattered all over the place. I played nationals in throwball and was also not half bad at cricket either.
After taking part in competitions for about two years, when I was doing fairly well as a junior in the national circuit, I began mulling over the fact that this could actually be a lot more than just a fun hobby. I guess being part of the Indian team changes the way an athlete thinks. I was no different.
Everything I have done till now has influenced my life in different ways. For instance, I completed my Masters in sports psychology. Being a sportsperson myself, it helped me understand the nitty-gritty of psychology well. At the same time, having a knowledge of psychology helped me understand my mind and body better when it came to stepping on to the shooting range.
I have always tried to avoid burnouts. It is one thing to be passionate about something but I think it is important to have other interests. It's kind of a there is no light without darkness situation. Continuing my academic pursuit was one way of avoiding fatigue.
Shooting has a lot to do with your concentration. Studying sports psychology helped me understand the importance of a lot of equations that we generally tend to gloss over, such as the how important it is to have a healthy and deep conversation with your coach.
I had made up my mind about doing this professionally when I was about sixteen years old. To be honest, my mother was more interested in shooting than I was, so getting her support about turning pro was a piece of cake.
My father required a little more convincing and he wanted me to concentrate a little more on academics. He was apprehensive about my nature of being involved in too many things. But thankfully, my 10th, as well as 12th-grade board exams, went unexpectedly well.
That helped my father breathe a little easier and he relented. However, like I said before, I wasn't going to neglect academics because of shooting because that balance of both was important to me.
It often seems like it is really hard to juggle things but actually, it is really helpful. Honestly, shooting takes a lot of your strength up and at least in my case, I would be completely exhausted if I concentrated just on that. But shooting also increases your concentration power by leaps and bound. So it became mutually beneficial while in school.
ALSO READ: Only a medal has the power to transform sports and change mindsets
Shooting not only helped me become a better student but I believe it has had a lasting effect on my personality. I used to be an extremely shy person but with my experience in the shooting range, I've become a far more outgoing and confident person than I used to be. I think just the idea of representing my country did wonders to my personality.
Of course to each his own, but bachelors and masters, I could see the difference in my life and my friends. I could see the monotony seeping into the lives of many of my friends but I did not face that. I could completely switch off from studies and move to shooting, and vice versa whenever I wanted.
Now it's a little different but the pattern is the same. I have finished my masters, so I don't have to juggle shooting with my academics anymore. That's why now I paint. Painting is something that I was interested in from childhood but I only started painting seriously two years back.
After a long day of training when I turn to painting, it is extremely refreshing. Next day, I can start with training with renewed vigour. Painting is just one more way to increase my concentration.
2013 was an important year for me in shooting. Before that, it was mostly training on my own in a very amateur manner. But as part of the junior national team, we got appointed a professional coach that year and it was a turning point for us in terms of training.
We were extremely lucky to have someone like Dipali Deshpande who took us under her tutelage. She stripped us off all that we knew till then and started from scratch. She made us climb up the ladder by first bringing us down to the very first rung.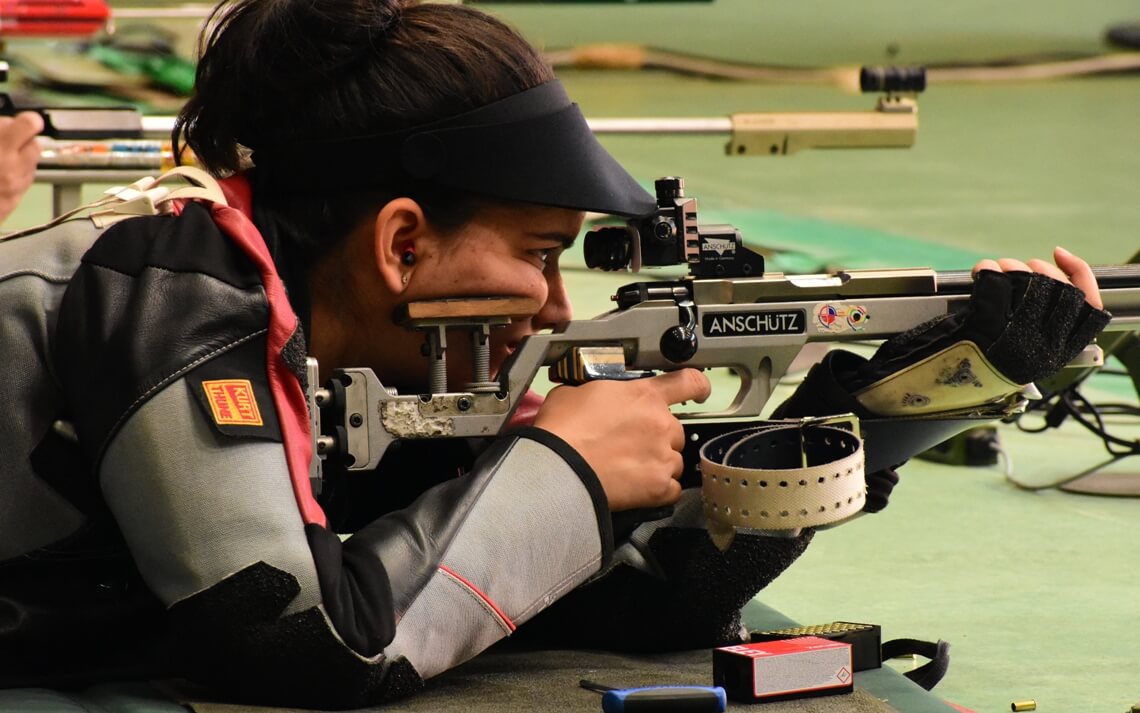 Until you actually have a professional coach, you don't know how much you're missing out on. We could see our improvement step by step, just like she trained us one step at a time.
I owe my success to a lot of people who are not in the limelight. Without the NRAI providing us with physical trainers, we could not have reached our full potential. This is not a sport like cricket or football. To the apparent eye it's just standing, pointing and shooting. But shooting requires the use of muscles that we don't even know of generally. So professional expertise is extremely important.
After GoSports Foundation came about, life has become a lot easier. Earlier, I had to train with whatever rifles I would get from the NCC. After that, I had to ask my parents to buy the weapons that I needed, which at the end of the day is not something a sports person likes to do.
ALSO READ: Being a goalkeeper is a lonely job
I also ended up using whatever cash prize I won for looking after my professional needs, which is not very cheap. Now, thanks to GoSports Foundation, I do not have to spend money or a lot of thought behind my equipment and training.
There's still a long way to go for me and the one thing that I always craved for was gold medal. I'd won silver several times but in 2016 I won gold for the first time in Guwahati and that has been an extremely motivating moment in my life. I want to take that motivation to the Commonwealth Games so that I can do something to make my country proud.
When I started shooting seriously, I had only one goal. I wanted to earn a Jersey with the Indian flag splashed on it. I didn't think I could do it. But now that I have, it's time to move to the next step. I have to do what it takes to prove that I deserve the jersey.
When you take part in events like the CWG or Asian Games, you have to remember it's not about you. It's about your country. I want to be worthy of this responsibility of representing my country abroad.
I started shooting because of my mother who had to give up on the sport she loved for a number of reasons. But now that I've established myself, I can see her interest creeping back in the manner that she asks me minutely about the sport. Last year, she made her way back to the shooting range. I'll say we've come a full circle.
Because of her, I have learnt that shooting is a sport where you're on your own and you can't blame another person for your faults. This is a challenging sport that will prepare someone for life. This is why, I'd always recommend shooting for youngsters who want to try their hand not just at sports but also to build their overall personality, just like I have.