Begin typing your search above and press return to search.
Revealed: How Satwik-Chirag plan to beat the bests in the World!
Satwik and Chirag climbed yet another pedestal when they achieved a career-best world ranking of 7.
Unprecedented.
That has been the most used word to describe the rise of Satwiksairaj Rankireddy and Chirag Shetty. And why not? In their brief time in the senior level, they have already scaled peaks which no other Indian men's doubles pair has.
Until now, Indian badminton was celebrated because of the success of the singles players, be it Saina Nehwal, PV Sindhu, Kidambi Srikanth, HS Prannoy or Sai Praneeth. The country would look up to the top bracket of singles shuttlers, expect them to deliver the goods. But times have changed. Nowadays, it is, in fact, the doubles pairing of Satwik and Chirag who is saving India's grace at tournaments around the world.
Sometimes, it's easy to forget that Satwik is only 19 and Chirag, only 22. To think about it, some four-five years back, no one had even imagined that they would be playing together one day. Back in the day, Satwik and Krishna Prasad George used to go head to head with Chirag and Arjun MR in the domestic circuits. Then, Tan Kim Her happened. The rest, as they say, is history.
On Tuesday, Satwik and Chirag climbed yet another pedestal when they achieved a career-best world ranking of 7. It must be noted that they are only the third Indian pair (men's, women's or mixed) to feature in the World top-10 after Jwala Gutta-Valiyaveetil Diju and Jwala Gutta and Ashwini Ponnappa.
The thing that highlights the young duo's rise is not the results but the kind of results they are getting. Wins against the best of the best in the business, World Champions, top seeds, you name it. And not just wins, dominating wins. That is where Satwik and Chirag are making the noise. That is why it is being opined by badminton pundits that they are on the verge of reaching the level.
Here we take an in-depth look into how the World No. 7 pair has fared against the World's bests so far in their career and try to analyse how they can breach that slight but existing gap with exclusive inputs from Satwik and Chirag themselves.
#1 Marcus Fernaldi Gideon - Kevin Sanjaya Sukamuljo
First, come the Minions. The Indonesian World No. 1s, widely considered as the best doubles pair to have ever stepped foot on a badminton court, have never been beaten by Satwik and Chirag, yet. In fact, Gideon and Kevin have dropped just one game against the Indian duo in all their encounters.
"It is always tough to play Gideon and Kevin because our styles do not match at all. They are short and Kevin, especially, is very quick near the net. So, we have to play the game in their way, according to their strategies, and cannot play as per ours, because they are short and fast while we are tall and face some problems reaching," Satwik points out.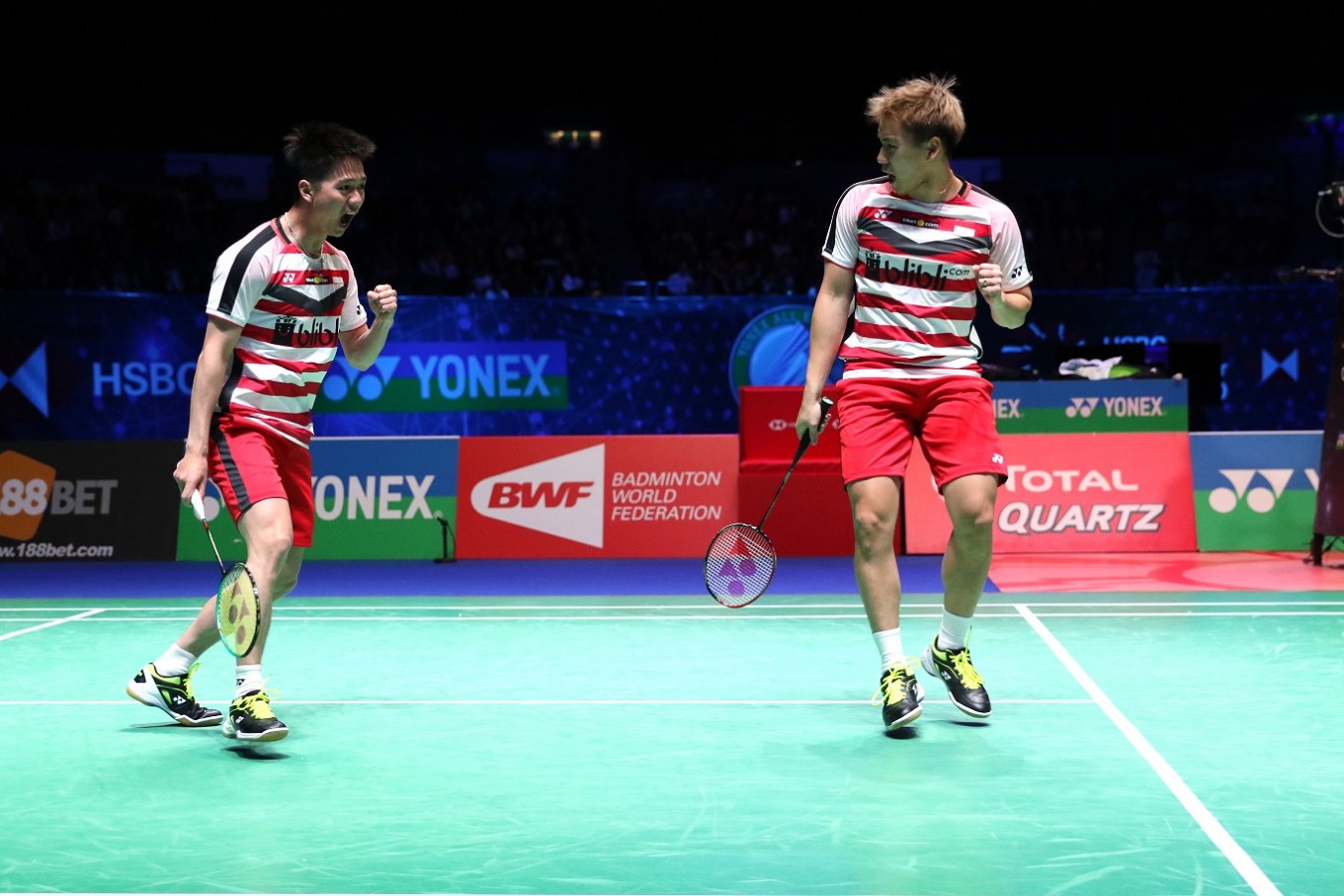 In eight meetings with the Indians, Gideon and Kevin have won all. Their first meeting was back in May 2017, at the Sudirman Cup. There, they had lost 9-21,17-21 within 26 minutes.
Two years down the line, at last week's China Open Super 750, Satwik and Chirag suffered another defeat, this time, though, a very close one at 16-21, 20-22, to the Indonesians in the semifinals. In fact, at one point in the second game, the young Indian duo was leading 18-16. But the Minions upped their ante at the right moment — showing tenacity and temperament that comes only with experience — and claimed six of the last eight points to win.
"I think we have come a long way. I think back then (during Sudirman Cup 2017) we were ranked 60-70, and now we are in the top 10. So, you can see the progression there. Back then, they were able to kind of toy with us. But now, it has changed, that's not the case any more. They see us as a threat now," says Chirag.
"But against them, we have to find a different way to attack than we usually do. With them, it's usually to change a bit like create openings in an unusual; way, maybe start with a lift and play on the counter. I think if we can pull it off, we will be able to beat them," the 22-year-old shuttler replies when asked how the Minions can be beaten.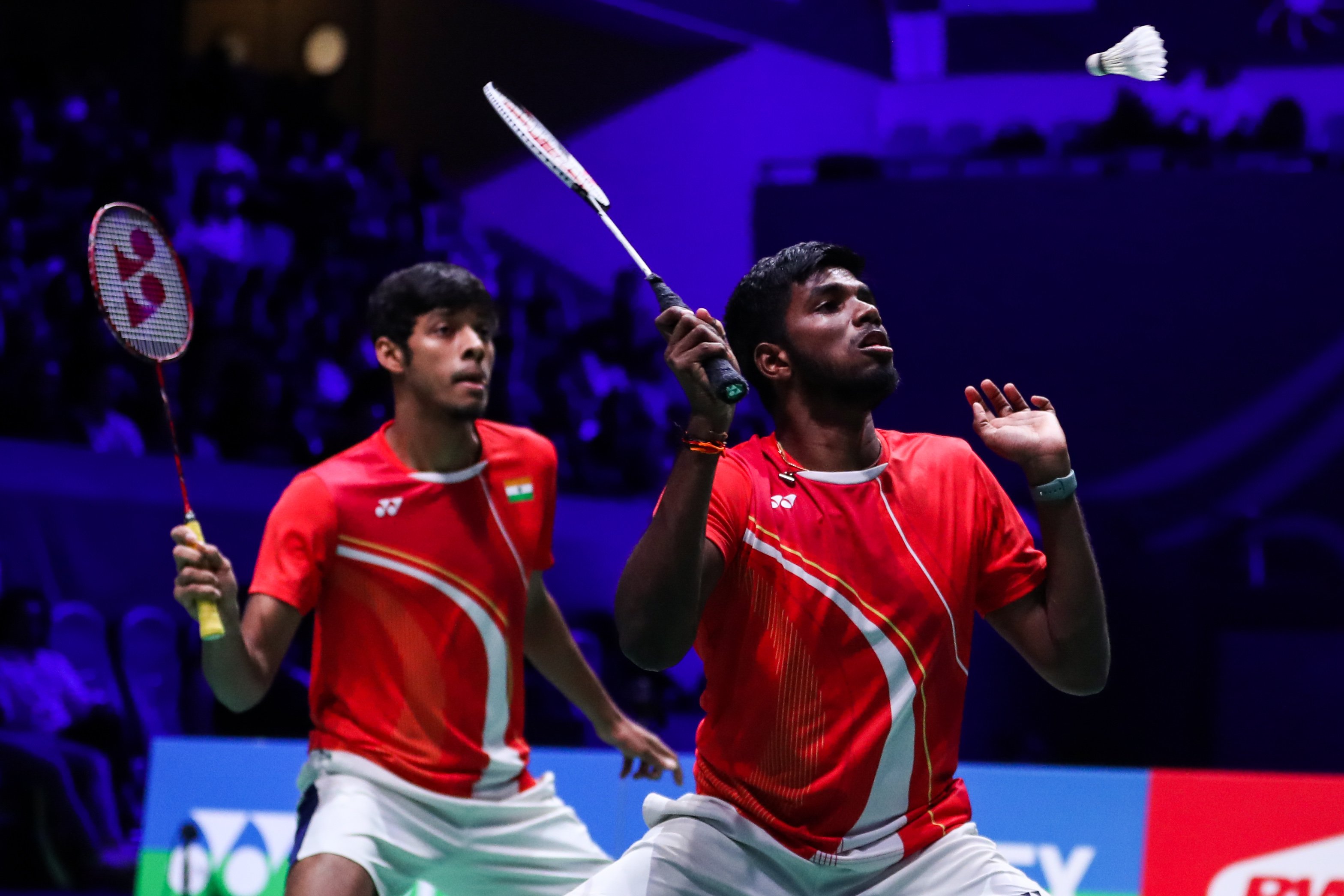 "Kevin is very tricky. When we played them the first time, I did not know much about Kevin but as we played more, I understood his quality. They are playing very good but whenever we play against them, we always trouble them," adds Satwik.
The youngster further explains just how difficult it is to beat a pair who are experienced as Gideon and Kevin. "Experience counts. So, they are always very strong in the endgame, like when it is 18-all. After 16-all, their service is really good and they become very tricky, we need to be stronger defensively in that aspect. I think we will play better the next time we meet them."
#2 Hendra Setiawan - Mohammad Ahsan
Hendra Setiawan, Beijing Olympic gold medallist, and Mohammad Ahsan have had to live under the shadow ever since Gideon and Kevin came into prominence; being from the same country never helped their cause. But when they won the men's doubles gold at this year's BWF World Championship, the world sat up and took notice.
The duo has everything in them. Multiple honours, check. Bags full of experience, check. Unreal talent, check. So much so — and not many know this — Satwik and Chirag consider Setiawan and Ahsan as their idols. It is not hard to imagine what one would feel when going up against his/her idol.
Satwik and Chirag, though, have lived it. And both times, they have stood out. The first time, they could not eke out a win as they lost 11-21, 21-16, 12-21. But at this year's French Open, the Indian youngsters got the better of Setiawan and Ahsan in an epic clash.
"We have been watching their games from a young age and we considered them as our idols since then," reveals Satwik. "That day, it suited us perfectly. We played well that day, planned well and our coach is also Indonesian, so he was also telling us how to strategise. He asked us to play the game at a faster pace against them as they are not that young anymore, so they will not be able to cover the court as much."
Indeed, the strategy worked in their favour. Satwik and Chirag took home the first game, laid the trap in the second before smashing it out of the park in the third, winning 21-18, 18-21, 21-13. The win was more significant because just a few weeks before this, Setiawan and Ahsan had won the World Championship and were riding high on confidence. Moreover, no one expected Satwik and Chirag to outplay them the way they did.
#3 Li Jun Hui - Liu Yu Chen
When it comes to the No 3 ranked pairing of Li Junhui and Liu Yuchen of China, Satwik and Chirag boast their best head-to-head record against the top doubles pairs of the world, thanks to the two recent victories.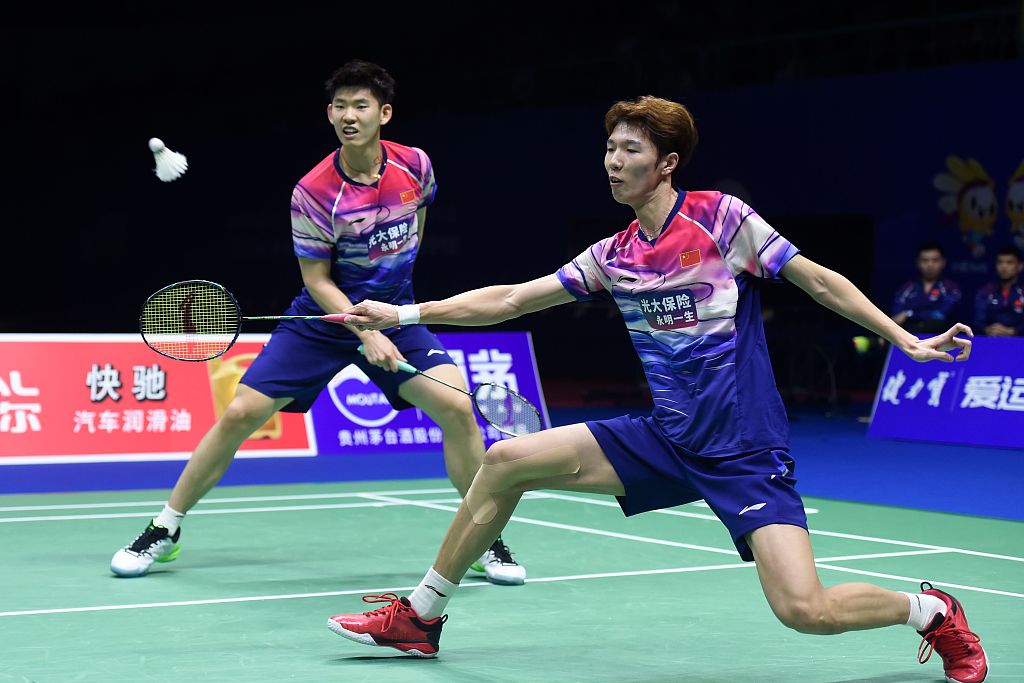 Li Junhui and Liu Yuchen, who had bagged the world title in 2018, are no amateurs. They know their business and are known to dominate their opponents, their tall heights helping them dictate the game. But against Satwik and Chirag, their biggest strength translates to their biggest weakness. Satwik says:
The first time Satwik and Chirag came up against the Chinese Giants, the lost in straight games at this year's Australian Open. Although they put out a stiff challenge, Li and Liu managed to win 21-19, 21-18.
However, things would change within a matter of two months. Playing in their first major final (Super 500), the Indian duo beat Li and Liu 21-19, 18-21, 21-18 to lift the title. Then, at the China Open Super 750, Satwik and Chirag did one better and got the job done in straight games.
"When we lost to them the first time at the Australian Open, it was a very close one. After that, we beat them in Thailand and then, at the China Open, we were more confident. We knew exactly how to play against them, how to target their weak points, and constantly varied our game to make them uncomfortable and subsequently, win the game," Sawik adds.
"I think this time we were a little more consistent than Thailand. Although the crowd was against us, the conditions were pretty good, the shuttles were decent, there was hardly any drift and it suited us," says Chirag, giving further insights.
#4 Takeshi Kamura - Keigo Sonoda
If there is a pair other than Gideon and Kevin who has troubled Satwik and Chirag as much then it would be Japan's fourth-ranked Takeshi Kamura and Keigo Sonoda. In five career meetings, they have not been able to beat the Japanese once. It can be said that the Indians are yet to figure out Kamura and Sonoda's game — yet being the key word here.
For, one they came heart-achingly close to beating them at the Korea Open in September this year, losing 19-21, 21-18, 18-21. But more importantly, now, they have the belief in them. Chirag says:
Do you hear that? That's confidence speaking. Oodles of them, but not over the top either. And that confidence has come from one thing only — making life difficult for the best doubles pairs in the world. They are close but will Satwik and Chirag be able to get there? Will they be on the podium come Tokyo 2020?
"It is a dream (winning an Olympic medal)," says Chirag. "But now, it seems much more achievable. Anything can happen, you never know. We can beat anyone there, even those who we have not beaten yet."
It is a dream indeed, one that the entire country could wake up to someday.