Begin typing your search above and press return to search.
There are different reasons why we might not be able to perform well some times. In the international circuit, maybe the weather, or the change in time zones have an effect. The thing I want to say is no one ever wants to know why the performance was not good. They don't ask why.
You know, it's difficult sometimes to focus just on the track. You will see someone overtaking you from the corner of your eye and you will think, 'Oh damn. She is running so fast.' Your focus will waiver, maybe, just for a moment, but it will.
The problem with 400m is that these minute lapses in concentration can ruin your day. In 100m, you can just go for it, you don't even get the time to think so much. So, it's a little easier to just focus on the track. But in my event, that's not the case.
However experienced you are, some mistake will happen. You have to trust your instinct. If you are just thinking that 'Okay, I want to overtake the athlete in front of me', your performance won't improve. Instead, you just have to focus on your running, your track — nothing else matters. There is no one else on that track other than you. You have to trust yourself to identify where it's going wrong, then make the correction without missing a beat.
The baton exchange, which of course is done blind, is one of the most crucial aspects of the team event. Imagine you are taking part in a 4x400m relay race. The first runner from your team is ready to go, the gun goes off, the runner takes off. Now, what you and the rest of the team have to do is follow the first runner closely, observe if he/she is tiring out towards the end of the lap. Here, the second runner has to be very attentive.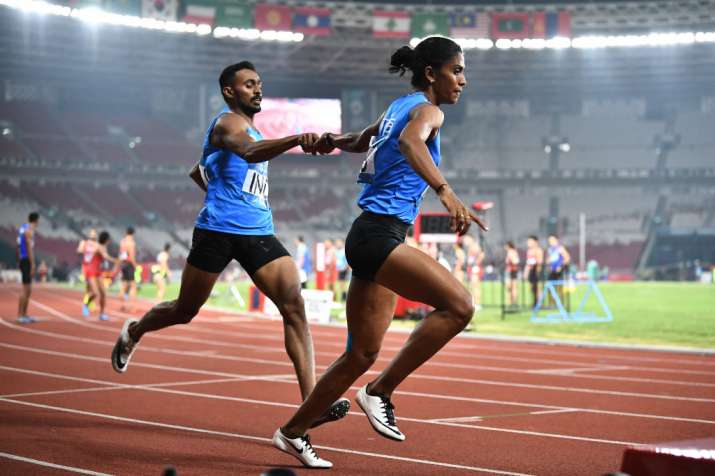 If the first runner has slowed down, then the second runner can't start all guns blazing. Otherwise, the first runner won't be able to reach and the baton exchange will be hampered. And when that happens, you lose many valuable seconds. Not only that, the speed and rhythm of the entire team will be affected. So overall, the performance will go down. The understanding has to be there.
For this understanding to develop, ideally a team should train together. It does not work when someone from another camp is drafted into the team suddenly. Every member of the team has to know exactly what the other members are thinking during a race. It can't happen overnight.
Track athletes are often considered as naturally talented — like it's a God-given talent that we have. I, for one, strongly disagree.
You know, growing up, I never thought I would become a runner, let alone a quarter-miler. I remember when I was young I used to take part in every activity. My life as an athlete began with multiple sports. I played football, kabaddi, volleyball, badminton. I played everything and I was good at most.
In athletics, I used to do 100m, 200m and long jump. I was in 7th standard when I got the opportunity to take part in nationals for the first time. Even then, I had not thought of taking up sports seriously or as a full-time thing. Next year also I was in the nationals but again I did not win any medals or anything.
Then, there was some district-level meet at our stadium where my coach told me to try out the 400m event. I had never been in a competitive 400m race before. But I managed to finish with a timing of 59 seconds, I was only 14 or 15 years old back then. My coach was amazed, we all were. Thus, I started training for 400m from then onwards and in 2005, I think, I broke the junior national record. That was when I realised that I could truly be good.
I did not even get to run as I was a reserve but just by seeing the other athletes there, something happened. Suddenly, it all changed for me. Suddenly, I was also dreaming of winning a medal someday. Simply, being there, made me feel like I belonged. It was like, Alright, Poovamma. These women are the best in the business and you're able to at least be around them. You have the talent to do this.
But talent isn't always enough. You need hard work and dedication and I was focussed. But a toe-injury hampered my progress. On top of that, the papers started writing, 'Poovamma is finished', 'Poovamma has disappeared.' I was very young and at that time, these things had an impact on me to an extent.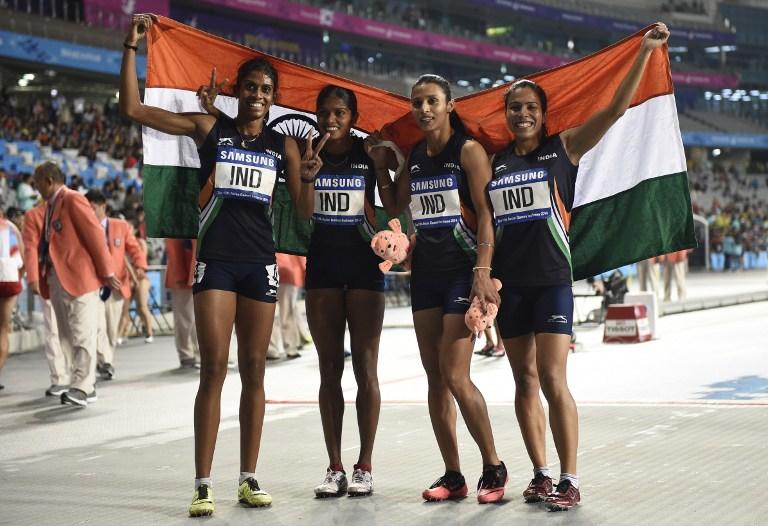 But as an athlete, all you can do is answer with your performances. That's what I told myself. When I was out injured or not performing well initially and I used to see other athletes going to international meets and coming back with medals, it used to hurt.
At this point, I must talk about the support that I received from my family throughout my career. There were several dark moments, especially when I suffered the back injury. I was in so much pain that, believe it or not, I used to cry myself to sleep every night. I could barely stand, running seemed impossible. In those moments, when there was no one, my brother and my parents were always beside me. Even our coach Galina Bukharina has always kept me motivated. Without my family, without my coaches, I would never have been able to stand on a podium.
Talking about podiums, the feeling when you are on there, on a podium — with the tricolour rising, the national anthem playing — you can't describe that in words. You can't describe how it can drive you to achieve greater things.
That drive is why, as a 29-year-old, I'm confident that I can eclipse my personal best and help India win it's first-ever track and field medal at the Olympics.
Lastly, can I clear up one misunderstanding about athletes in this country? Age does not matter, it's just a number. People say, 'She is 29 years old. She can't do it anymore.' Look at Allyson Felix, look at Shelly-Ann Fraser-Pryce. Agreed, the infrastructure, nutrition and other things are much more advanced in those countries but the least you can do is encourage the athlete, not discourage her.
Here's the crazy part, though. If it hadn't been for the critics, maybe I wouldn't have been able to reach where I am today. If people didn't criticise, I would not know the difference when they praise me for doing well. So, to everyone who wrote me off, I want to say thank you.
Because, from the moment I walk onto the track, I'm completely zoning into improving my timing. I forget about medals or what people say about me.
It's okay Poovamma, you just got to let your running do the talking.